Finally, I got a chance to visit Universal Studio Singapore!!! I always wanted to go there ever since it opened last year but the ticket is rather expensive. Therefore I decided not to go until all rides are open so as to make every cents worth =p. Currently, it is still under soft launch.
I have not been to any other Universal Studio other than Hong Kong Disneyland so I don't really set any expectation for this trip. I went there on a Wednesday morning. So not much crowd or any long queue. For those who plan to go probably you might want to read my little review on what to prepare or plan before you embark your journey in USS =D
Welcome to Universal Studio Singapore!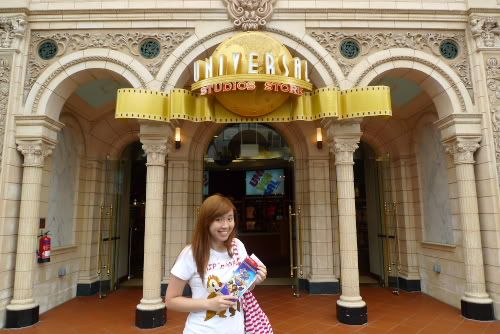 Here we go! This is me, your tour guide for today! I'm going to show you around USS!
---

Hollywood
"You are going to Hollywood!" Yes, this is what you will hear from the judges in the American Idol to those who qualify for the contest. Well, I don't have any singing talent and I'm already at Hollywood!! Yay!! HAHA! (Okay, I am dreaming..)




This shop sells various hats, wigs and other stuffs. Alot of visitors were there playing with the hats and taking pictures. So I decided to do the same. Haha!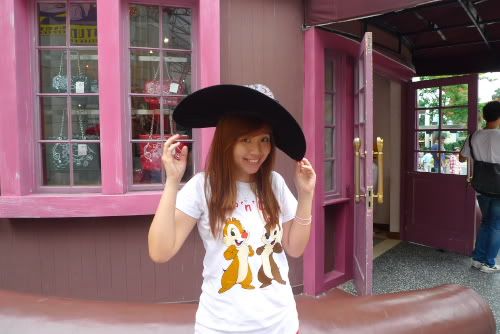 This is me, your friendly witch. Lol!
Pantages Hollywood Theater
Here is the place where you can watch live Monster Rock musical! It is a musical show performed by 8 singers and they all dressed up in different characters. Overall, their performance was quite good and their singing is just alright. There is 1 lady who dressed up like a cat woman, her singing is better than the rest. She is the most enjoyable to watch.

I didn't managed to take any picture of the performance as video taking and photo taking is not allow. (Maybe it's the flash of light that they don't allow =p)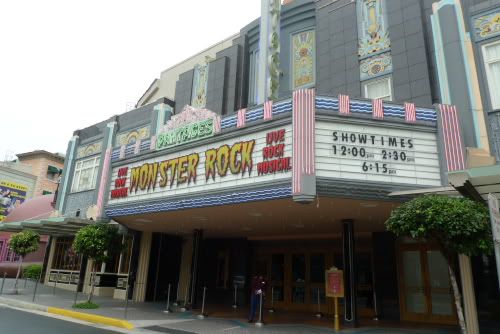 Show times: 12:00pm, 2:30pm & 6:15pm. Please note that these are the time slots for weekdays. There are more times slots on the weekend. =)

Da Xiang said, "ROCK ON!"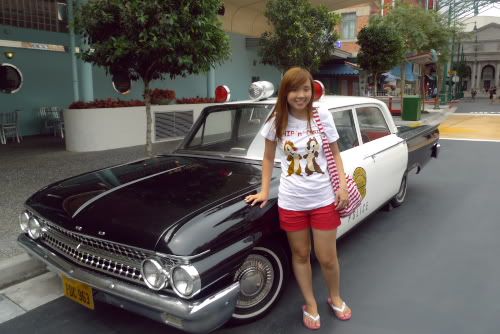 This police car reminds of Transformer.


Want to guess why is this picture being taken? (Look below!) Even the kids are looking at her!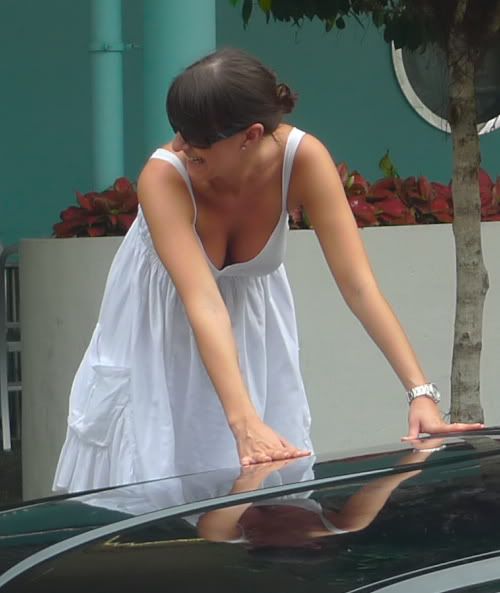 Taaadaah! Got it? Haha! This is definitely not my idea to take this picture! I really wonder what's the big deal. Probably, guys' eyes are born to see such stuff. Lol!
---
New York

I have never been to New York so I am not sure if New York resemble anything like the following pictures. Haha! Actually, I doubt so.


The streets.
Lights! Camera! Action!
This place shows you all the special effect when filming a movie. The setting shows a major hurricane is about to hit New York City. As a first timer, I'd say the experience is quite good. I like the thunder effect and when the HUGE ship is about to hit the audience. It look quite real to me but the duration of the show is rather short.

Da Xiang went to Universal Studio L.A before, he said the experience there is much better than this. Oh well, this is Singapore, where the land are limited so I can't blame that USS lose out to the one in L.A. It can't be compare at all, you know?
Be sure to stand in the front row, if you want to experience the water splashing on you! If not, I'd suggest you to choose 2nd or 3rd row. I didn't know about this, if not I will be standing at the front row!! Haha!
Rockafella
A group of guys performing street dancing. I missed out half of the show as by the time we reached here, the show has already started.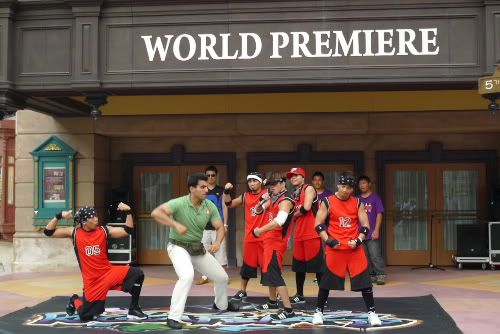 They called out for volunteers to dance along with them and this guy from Iran is so damn funny! I think he is not dancing but he is trying to show how macho he is. Lol!
---
Sci Fi City

Welcome to the land of the future! I read from the website that Transformer will open in 2011!! But it is not open to public yet, I can't wait! I think I will come again when it open!
Accelerator
This is quite a boring ride. I thought this ride will spin very fast and make me really giddy BUT! NAH! This ride is like for little kids. This should not be call, Accelerator at all as the the rate of spin is quite slow =/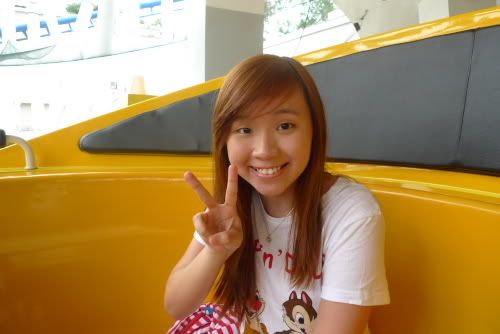 *twist* This is me getting ready for the 'spin'!
Battlestar Galatica
It's open! I guess, alot of you have already read this in the newspaper, this roller coaster has reopened! Weee! I was really exited and wanted to at least try the Human BUT BUT BUT......... My Da Xiang is too afraid to take this ride and I don't to sit alone so ..... *sob*
Goodbye to this roller coaster =( Everyone is dying to try this when it opened. I am there and yet I didn't get to try it! Next time, I will bring someone who is more brave to take this ride with me. =/
Human is the one in red where you get a seated roller coaster whereas Cyclon is the suspended roller coaster and turn your world up-side down! Boo! I don't get to try any of these.
Alien warrior spotted! I saw this dude with a bright outfit walking around and looks interesting but Da Xiang said his outfit is ugly and so he didn't want to take picture with him. I'd prefer this picture to be full length but Da Xiang didn't do a good job. Booo!!!
---
Ancient Egypt

You have travel into an era where the Pharaohs were discovered! Be careful of where you are heading to, this is the place where their terrifying curse unleashed! *evil laughter*
A close up picture of him. Wahahaha! There was also another Pharaohs, he looked damn fierce and angry so I decided not to take picture with that guy. =p
1 more picture of him. Lol.
Revenge of the mummy
This is an indoor, high speed roller coaster ride. It is very dark inside and you can't really see much when you are in there. I guess this is what makes this ride so exciting and thrilling. The ride will not only go forward, it will also go backward! This is really fun and it is the only ride that I took twice. This is probably the best roller coaster as compared to the rest!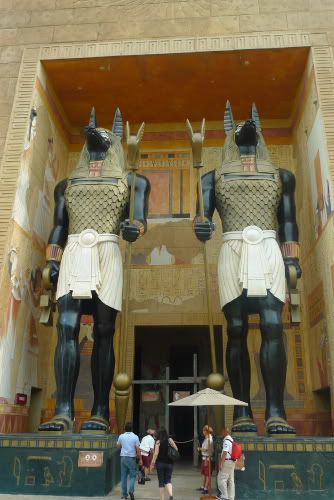 This is the entrance to Revenge of the mummy. When you enter, there is a maze for you to walk through before reaching the ride itself. The maze is dark and eerie with some statue of the Pharaohs. It almost make my Da Xiang chicken out for this ride -______-
Does this picture looks romantic to you? With the sun shin brightly at those statues and a couple strolling down this path. Haha!
Treasure Hunters
It is a motor car ride and I think it is more cater to the young kids. I did not get to try this! I know I am already a grown up but I am a little pissed because the person in charge for this ride told the few adults infront of me that, "This ride is only for the kids." Upon hearing it I thought ADULTS are not allowed so I walked off. When I am home, I went to do a little bit of research and realised that adults are actually allow to sit on the motor car..... WTH! I don't care if it is for the little kids, I just want to try on every ride! Haha!!
---
The Lost World
Welcome to the world of dinosaurs!! (Even though they don't really exist now) I love watching Jurassic Park when I was a kid and so this section is definitely my favourite =D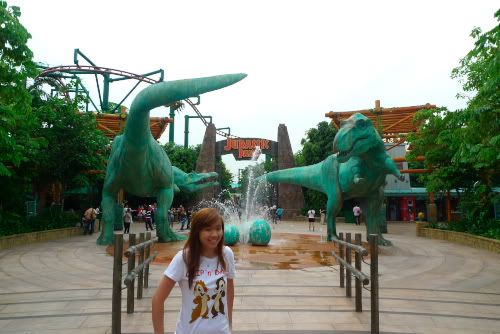 2 dinosaurs fighting behind me =p
This is found inside the Discovery foodcourt. We didn't eat anything in here because it is rather expensive plus we don't really have the time to stop for any BREAK! Haha!
Dino-Soaring
This is another ride that is suitable for the kids. I like this ride as nothing is ever too young for me =p When I queue for this ride, I was watching the others riding this. I was like, "Why these Pteranodons fly so low???" So when it was my turn, I sit on it and I saw a button infront of me. Later then I realised that if you want to fly higher, please remember to press the white button! Haha! I bet those who took the ride before me forget to press their button =p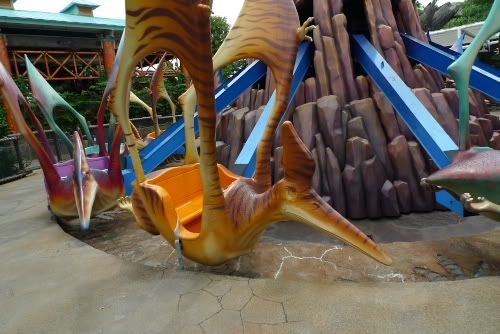 A fierce looking
Pteranodon
! *grr*
Canopy Flyer
This ride has the most number of people queuing for it. A fun ride but it is rather too short. I'm seated facing backward so it give this ride an extra excitement.
I didn't managed to take any picture of this.
This is taken from here.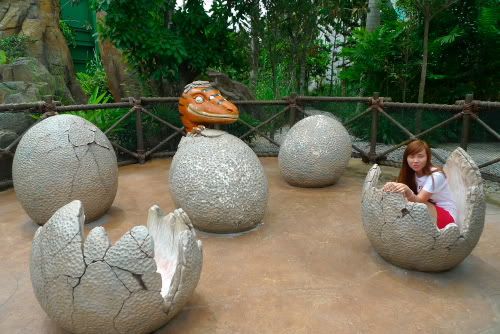 Hey you! I am one of the dinosaur species! *ROAR*
I am not sure what is this call but I know it is very small, fast and dangerous. It spit venom at you and EAT YOU UP!
Jurassic Park Rapids Adventure
Be prepared to get wet!! This ride is not so fun until when you are about to reach the ending... because... *SPLASH* Yes! That is the part whereby you will get
ALL WET
! If you are afraid of getting wet, I'd suggest you to spend $$ to buy the raincoat before taking this ride. There is a vending machine selling raincoat just before this ride. =)
I didn't bother to buy any raincoat so I was all wet! But I just don't get it why Da Xiang is only 1/4 wet! His tshirt is still dry! *sob*
NOTE: Bags are not allow to bring in for this ride. Duh! Therefore we have to deposit our bags in the lock. 1 hour will cost you $4. Another thing to take note, NO CHANGE WILL BE GIVEN! So please don't be a stupid like ME!! -__- I didn't read the word, 'no change give' and I put a S$10 note in...... Da Xiang quickly alerted me but it was all too late. There goes my $6. Da Xiang was quite pissed because he felt heartpain for my loss of $6. I wasn't really very upset because what is done, cannot be undone =/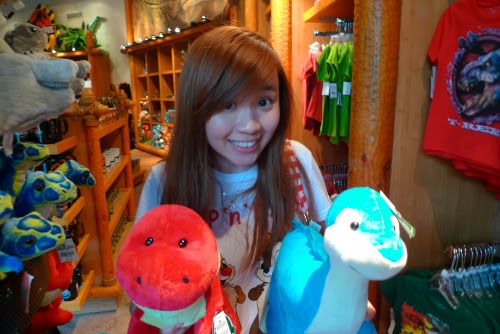 In order to cheer me up, Da Xiang bought me a dinosaur soft toy!! WEEEEE! =D I'm so easily contended. Guess which one I bought?
(Ans: Blue dinosaur. =D)
Water world
Based on the blockbuster film, "Waterworld", witness a tidal wave of death-defying stunts, along with thrills and spills from real explosions of fire and water at this sensational live water show.
The seats are divided into 3 parts.
Blue:
You will be soaked!
Green:
You may get wet. If you are seated at the last section, you won't be getting wet =) I seated at the
Green
zone. I get a little splash here and there so it is still okay. We are here to have some fun so why sit in the dry zone!! Those in the
Blue
zone have to be prepare to get really wet, they might just pour 1 bucket of water on you. Haha!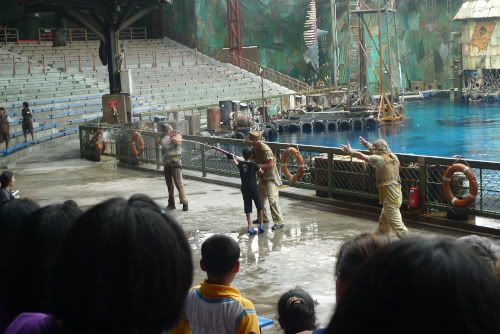 The actors/entertainers for this show are not bad. I like the starting part where they tried to warm up the crowd with some cheers. The extreme left side of the audience gave the softest cheers so their captain got a punishment from a little boy from the centre row.
The actor and actress waved goodbye to the audience when the show ended. Da Xiang has watched this before in L.A and he kept giving me spoiler about the show -__-
---
Far Far Away
This is place where Shrek, donkey and other fairytale characters lived! I love this place! Especially, the castle! It's very beautiful! Probably, similar with the one I saw in Hong Kong Disneyland. Hehe! Every girl loves fairytale and live happily every after!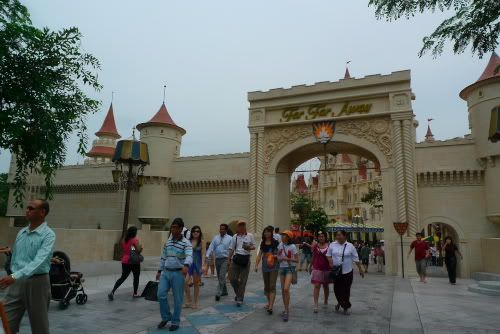 The crowd coming out from the Far Far Away.
Welcome to Far Far Away.... Away from the real world.
The fairy godmother shop. We went into this shop while waiting for the the Donkey Live to start.
Lotsa Gingy in this shop! I wanted to get this but since Da Xiang already bought the blue dinosaur for me so I decided not to waste too much money on soft toy =p
Me taking picture with donkey and gingy! The ride behind me is Magic Potion Spin. It is a ride for little kids ;)
Donkey Live
It is a live show where the audience get to interact with Donkey!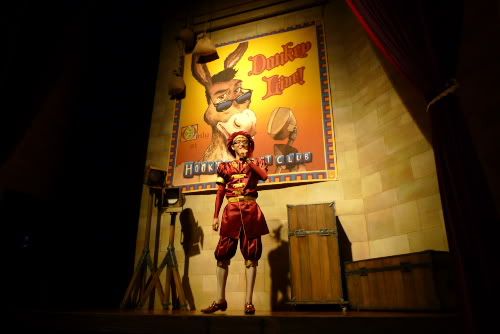 The host for Donkey Live!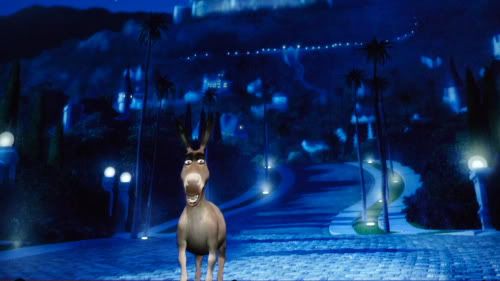 Donkey will select random audience and interact with them. During the show, they asked if they are any Singaporean and we didn't raised our hand. We just pretend that we are foreigners because we don't want to get make fun of. HAHA!
Shrek 4D Adventure
A 4D show on how Shrek saved his princess Fiona. It is fun to watch. You get to feel the waster splashing, the creepy crawly and etc. I shall not give so much details to spoil the fun =p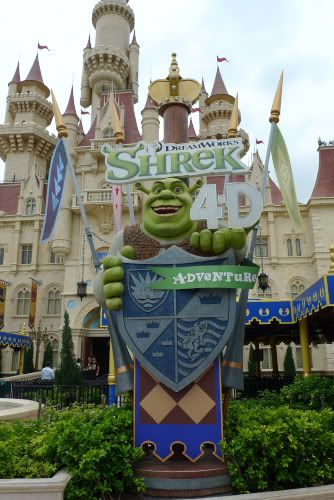 Shrek 4D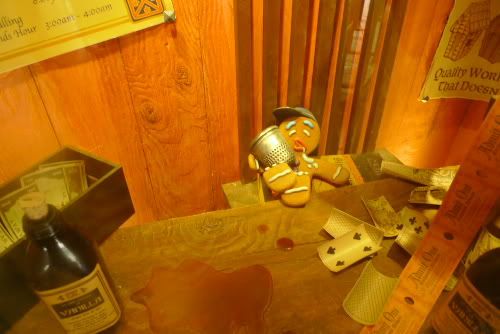 Gingy got drunk after drinking the vanilla. So cute!
One of the poster they put up at the queuing area.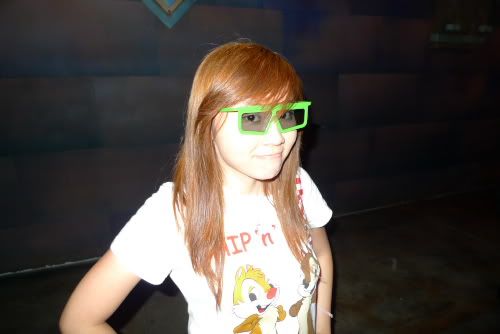 I am all ready for the action!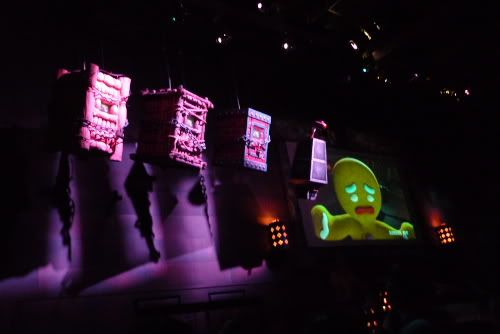 A little introduction before you enter for the 4D Show.
Enchanted Airways
A dragon roller coaster ride. It is quite a typical roller coaster ride but it's still quite fun. =D
The queue was very short so I didn't manage to take any pic and it is already our turn to sit in. Hehe!
Picture taken from here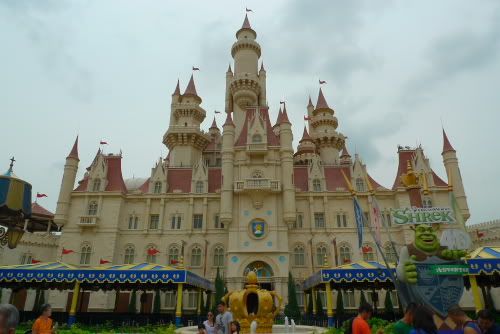 The beautiful castle =D
---

Madagascar
I like to move it, move it. I like to move it, move it. I like to MOVE IT!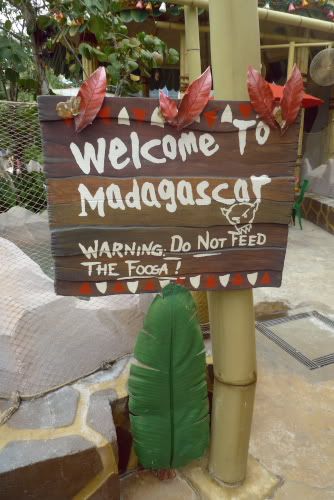 Welcome to Madagascar~
King Julien's Beach Party-Go-Round
The title say it all! It is a Merry-Go-Round ride. I didn't take this ride because there is no one queuing!!! I'm way too shy to queue for it. Maybe this is the bad thing about going on a weekday. Haha.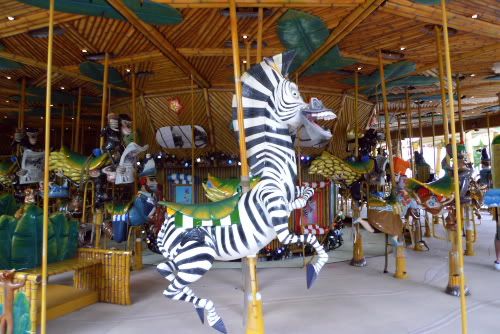 Thinking back I think I should just go ahead and take this ride! I should have conquer this whole merry-go-round on my own!!! HAHA!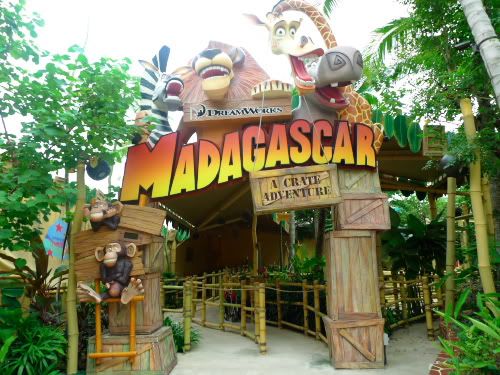 The ride is not open yet so this make this section kinda empty.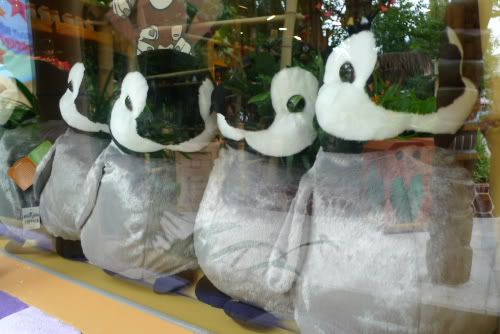 Cute penguins selling at some of the stores there. Da Xiang asked if I want to get it and I said, "no". Oh well, I wish to get it but but... I already got the blue dinosaur. =/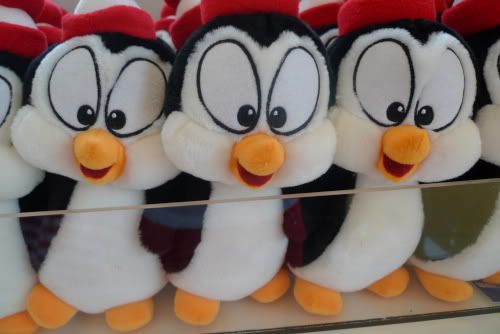 This is sooooo cuteee too! How I wish I can buy every cute soft toy there!
Cute toilet sign.
We have come to the end of our journey at USS. Overall, I have lotsa of fun there! I definitely want to go back there again as I miss out the following performance & character meet and greet.
1) Mel's Dinettes (Hollywood)
2) Daddy O's (Hollywood)
3) Madagascar Boogie! (Madagascar)
-
I miss out all the characters from madagascar!! Booo!
4) Shrek, Princess Fiona and Puss in Boots (Far far away)
-
They walked past us (probably going for a break) and I didn't get to take any picture with them =(
---
Anyway, I want to thanks my friend, ZG, I got the USS ticket from him for freeeeee!! He got it from a colleague but sadly he is unable to go because his gf was unable to apply for leave so therefore he decided to give it to me. Hehe! Lucky me!