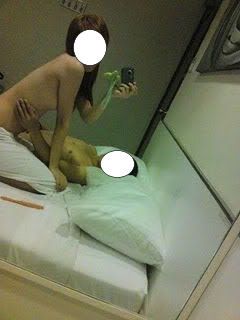 Omg! I saw this on
Wayang
and I thought this girl is from other county but I am wrong! She is from Singapore! She goes by the nickname of xxlurvegalxx aka Grace. Well, I don't really care if anyone likes taking such pictures because it is their own business. I do believe there are many others out there doing the same thing!! But perhaps they are smart enough to keep those pictures to themselves.


GIRLS & BOYS PLEASE DON'T EVER POST SUCH PICTURES IN YOUR BLOG!
Regardless if it's public blog or private blog, people will always have a way to
DIG YOUR PRIVATE STUFF!
So think twice before posting your naked picture! Unless you enjoy getting alot of attentions!
Anyway, I read her blog and in most of her entries she sounded very childish. Oh well, she is only 18 years old. I hope GIRLS should be more sensible in posting such stuff -_-
Anyway, this is what she wrote in her blog.
This reminds me of a story that Kai told me. He said that his friend ex gf "
kiap
" his ass while having sex so he can shoot it inside her. This way, she can keep him forever. Haha! So naive!!! It sounds abit stupid but it's so funny! Well, girls...!! Please don't try silly things like this! What if you got pregnant and the guy run off? The only person that suffer is YOU and your family -___-
Anyone who is interested to read her blog,
click here
. Nothing wrong to share right? After all, she is the one sharing it with everyone. Haha.
EDIT:
BOoo! The link don't works anymore! I think she has removed her blog.