That day I told my family I wanna try to fried noodle, fried kway teow or whatever it's call. It's just putting the kway teow and noodle together and fried, that's it. Lol. I thought it will be fun and who knows, I can start my own stall and sell fried kway teow one day! Alright, I'm kidding.
So last weekend we went to buy all ingredients.
Noodles & kway teow.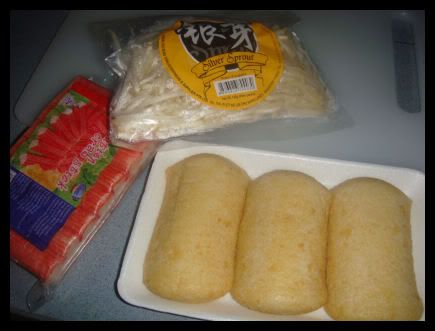 Crab meats, bean sprouts and fish cakes.
So on Wednesday I just started cooking this dish without knowing how to even start doing it. Haha. Oh, did I told you that I have never fried this noodles/kway teow before? Hehe.
My sis said I gotta soaked the noodles & kway teow first so that when we eat the noodles, there won't be a noodles smell. But my mum told me not to soak it. Well, I didn't listen to my mum because my sis can cook better fried noodles/kway teow than her. Wahahaha!
Alright so I started my cooking...
I actually add in all the ingredients first which I find it quite stupid after that. Those food are already cooked! I should put in the noodles & kway teow first -_____-
Major fail
!
Alright... I added the noodles after I added in those ingredients -.-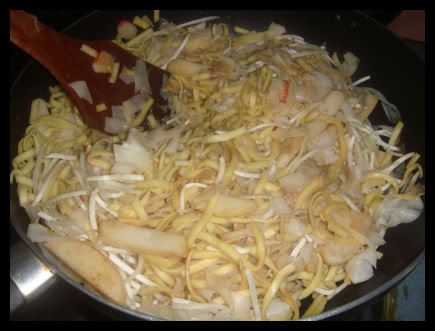 Now I added in the beansprouts and 2 eggs which I can't even see it when it's done.
I added in soy suace and black soy sauce. Tadaaah! This is the ending product! I can't even see any trace of the eggs. Haha.
Overall, I think it's ok. The taste is fine, not too salty or too bland but I should have added in the garlic or onion?! I forgot what my father said. Haha. My father also said that my noodle/kway teow was too dried. Probably due to not enough oil.
It's not easy frying noodle/kway teow you know! So I decided that I won't do it again. Haha! I shall just
fried my rice
will do =P