Why I love
Nuffnang
? Well it's very simple, it not just brings all the bloggers together and it also helps people to earn extra income. You might be thinking what
Nuffnang
is so good about for for noob blogger like me as I'm also not Xiaxue or people like Kennysia. I definitely cannot earn 10k for a month! Pssst! I think I can't even earn $10 a month. Haha!
But well, whenever I hover my cursor to '
Analytics
' in the
Nuffnang
website, I will feel a mini sense of achievement because this is how much visitors I generate for each week! Even though it might not be alot but
Nuffnang
definitely keeps my motivation for blogging going on.

Here are some of my post that make it to the top 10 in innit:
No. 1:
Reason why men choose to date a non-virgin

This is the post is on my Comic blog,
Little Nini

No. 1:
Learning yoga or....?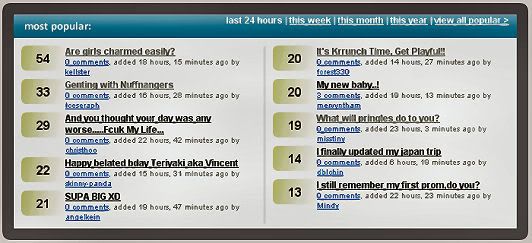 No. 8:
What will pringles do to you?
Seeing my post up in to top 10 makes me wanna write more interesting stuff for my viewers!
All the above is definitely some kind of achievement you can get from
Nuffnang
and nowhere else! On top of all these mini achievements,
Nuffnang
also give out free movie tickets! So far I have won 2 pair of tickets for the movie,
The ugly truth
and
Julie & Julia
. I have been to the
Nuffnang
office once to collect the movie tickets for Julie & Julia, all their staff are really very friendly.
Thumbs up to all Nuffnang staff for their great services they provide!
Keep up the awesome work!
By the way, I got a secret for you guys *ahem* I have join Nuffnang around mid this year and here's my earning so far...

So little earnings right?
*sob*
So must remember to click my ads more often whenever you visited my blog ok? Hehe =P