Weee! Thanks to
Boon Ming
for the $50 Waraku voucher! I really never thought of winning anything, I just want to congrats him for getting 5th for omy.sg's Y Bloggist competition and
ta daaa
! I was chosen as 1 of the 3 lucky winners to win the voucher. Haha.
Suddenly I just come out with this
2 very important tips
if you wanna make sure other bloggers will visit your site again & again...
1) When posting a comment on their entry, BE SINCERE.
Try to read everything he or she wrote before you comment. Don't you think it suck that you just post your comment as, "
nice post
" and that's it?
2) Avoid advertising your website on other blogger's blog
by writing cheapskate comment like, "
Hi, dropping by
". Well, with such comment the most I will click your bloglink once and never return again.
The fact is, the more sincere you are the more you are able to make friends with other fellow blogger, isn't it? =)
Anyway, on top of that, I got the $$$ from NTUC for the education & training fund after competing my diploma. Wahaha! It's a 4 digit amount and I can saved it for my driving lesson!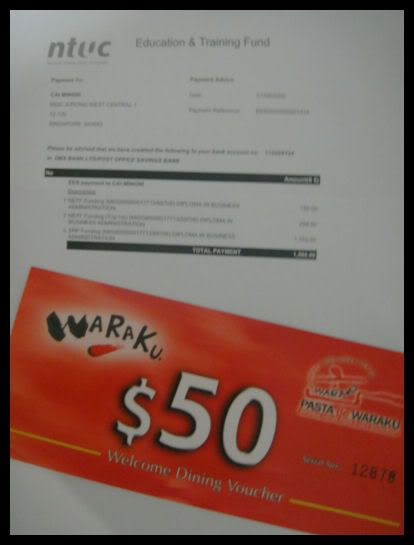 Anyway, I have chat with Grassy last night and she told me that the fruits that posted on my previous entry was call,
Langsat
. I'm really impress as my parent don't even know what is it but she know it! She is really smart. Haha.
Another funny incident yesterday morning, I sms something like this to my dear, "
I love you because there's no one like you
." Ain't it supposed to be sweet? Guess what? He thought I said, I love him because no one like him (
没人喜欢)
. WTH!
Boohoo... Im sick today and didn't go to work. Taking a break from my colleague's nonsense. They keep disturbing me!! >_<