Yesterday was my cousin 21st birthday. She celebrated her birthday by having a chalet at East Coast park. I was rather reluctant to go as we are not so close as cousin. Well, after all we still have to go as to give her family some "face".
When we reached there, the atmosphere was rather "
cold
". After that we decided to help ourselves with the food first as I'm famished! Other than the BBQ food, there's only been hoon, WHITE rice, curry and fishballs. -___- Alright, so I took some bee hoon with the curry. I went to look at the BBQ pit, there were 2 Ah Tiong BBQ-ing so I decided to eat my food and walk away.
After finishing my pathetic bee hoon, I wanted to BBQ for myself and my family but the 2 Ah Tiong were still occupying the 2 BBQ pit -____- I looked at them and they said, "
Oh.. over here (pointing at the aluminium tray), all these are ready to eat.
" So poor me just went to aluminium tray and dig up some food to eat. I really don't need their service! I don't know why my cousin & her family are letting these 2 unknown Ah Tiong to BBQ.
Probably they know these 2 but I don't
=P
Just take a look at the pictures below.
Wow! Look at the corn! I think they really like the song, "Black & White" by Michael Jackson.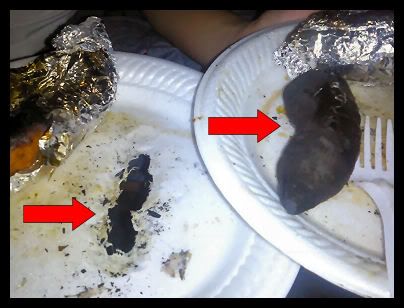 The left plate, once my sis put the sweet potato on the plate it immediate burn a hole on the plate.And the right plate, gosh... Is it a sweet potato or black charcoal?
Apart from the food, the host, the 'cut cake' section... everything was *vomit*. I shall not comment further. -___-