I really hate that my company always like to give last minute instructions or perhaps marjority of the company practice the same culture. Wait to rush and rush to wait. =/
On Thursday, I was made to rush like mad for the printing of the sign off letter. I felt like I'm working in a factory. I was rather fed up with
Mo boss
, when he said something, inside I was really thinking... "
DAMN YOU & SHUT UP
" He was saying redundant things. C'mon man, what was done was done. So what for talking so much of "
we should have......... in the first place
" I rather these people just shut up when things happen and think before they ask us to do things.
Then on Friday, Martini & a new guy, Albert came from SGH to help. I was so happy actually because that was the fun part. Haha. Although we were busy doing the thing, we kept craping around. This was so much better than when they weren't around. You know I just can't crap with those older staff there. When there is no fun at work, things will be dull and then... I will just fall asleep. Sadly, we couldn't complete everything by Friday so we decided to come on Saturday.
This time we got Vinny along to suffer with us! Then we targeted to finish it before 1pm but we ended up finishing at 4pm and all the counting stuff, we finally ended our work at 6pm. I wonder if it was because we talked too much. Haha. Nonetheless, I have not much to complaint about. I guess all the fun has already overtake the stupid things that we have to do. I wanted to thanks Vinny for coming but later he complaint so much about having to go back late! #$%#$ I shall not thanks him =P
Well, due to these 2 days, I got 1 more younger brother and sister. I'm the Da Ge, Martini is the Er Ge and Vinny is the San Mei. HAHAHA. All thanks to the stupid idea from Martini for us to be "
Jie Pai Siong Di
". So Er Ge sugguest that we should prepared all the roast duck and chicken for the offerings but I said that was the older times ways of doing then he added that modern days was to offer the God with KFC. Lol. We ended up at Pizza hut anyway.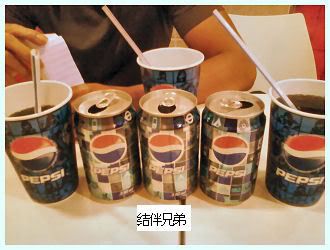 Pepsi was our offering instead. HAHA. Perhaps I should be a guy o_O!!
We reached the pizza hut @ around 6:45pm, I guess. Then we leave at like 8:30pm!!! Time fly even faster when we were talking and eating. Have a great day and of cos credits to myself and the guys. Haha =)
Days like these are hard to come eh. I guess no more fun on Wednesday onwards. Boo hoo! Time to study for my Econs >.<~