Last Thursday I went
Genting and KL
(
again!
). The last time I went was last year November. I didn't blog about my last trip as I am either too lazy or busy. Haha! Anyway, this time my trip is 50% sponsored by my bf. I only need to pay for the hotel room and air tickets. That is quite awesome right? =p We didn't bother to go to the theme park as we already went before and the theme park is not so fun anyway.
We bought the tickets from Jetstar.
Once we reached the KL airport we took the
KLIA Ekspres
train to city. It cost
RM35
per pax. The train takes 28mins to reach the destination. It's pretty fast and the train is definitely very clean and comfortable to sit on.
Additional info:
First train departs at 5.00am and last train departs at 12.30am from KL Sentral and 1.00am from KLIA.
Frequency:
Every 15 minutes - Peak Hours
Every 20 minutes - Off Peak Hours
Peak Hours:
Monday to Friday : 06:00hrs - 09:00hrs, 16:00hrs - 22:00hrs
Off Peak Hours :
* After midnight - every 30 minutes
* Entire Saturday & Sunday - every 20 minutes
My cute sister and her husband, Ben.
Me again! Pretending to me an Eskimo?
When the train reached KL sentral. We actually wanted to take the train to
Titiwangsa
and then take a bus up to Genting but on the way a taxi driver kept pestered us to take his cab. He said we just need to pay him
RM120
for the ride but we kept on rejecting. After that we decided to bargain the price with him. In the end, we settled for
RM80
. Wahaha! It is definitely a good bargain. So each of us only need to pay RM20 for the ride up to Genting =p
We were hungry when we reached Genting so we went to check out
Restaurant Causeway Bay
. The last time we came here was with my family, the food was not too bad so we decided to try it again.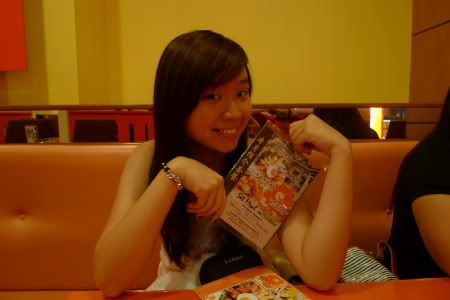 We ordered the set meal which cost RM26.80++. It comes with... (see picture below)
1) Soup of the day -
Watercress soup (
for that day
)
2) HK Milk tea, HK Coffee, HK Yin Yong or Honey lemon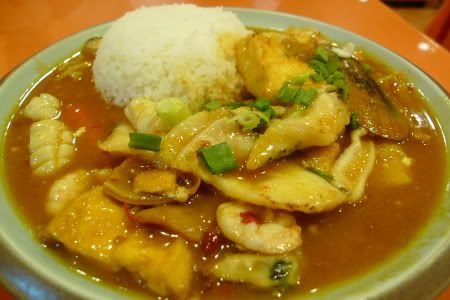 3) XO sauce seafood tofu with rice -
No XO taste and quite salty -.-
or
3) Golden fried rice -
This is much better and nicer
and any of the 2 dishes:
a) Vegetable
b) Fruits (papaya)
You can also choose sweet soup, ice cream or appetizer, which I don't know what is it as none of us order it.
Finally, it's time to check in to the hotel! We stay 2 nights at Theme Park Hotel. Ben's relatives worked in Genting so we got a much cheaper rate to stay in the hotel =p Lucky for us, we get to save $$ on the hotel room.

The hotel as the name suggests is part of the theme park. I can see the theme park from my room. Rooms are small but still it is clean and comfortable to stay in. The last time we came here, we have already been to the theme park so this time we are just here to relax and enjoy the weather =)
My cute sis!
After we settled down in our hotel, we went out again. We walked around the place and we decided to catch a movie to pass our day 1. Guess what we watched? We watched Tron again but this time we watched it in 3D!
The 3D movie ticket cost RM18
(which is about S$7.50).
Watching 3D in Malaysia is much cheaper than in Singapore!
Our popcorn set only cost RM5.50. That is really cheap! Just think about how much you gonna spend when you order your popcorn set in Singapore -___-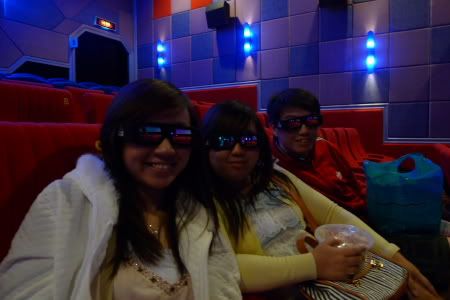 A picture of us inside the cinema! =)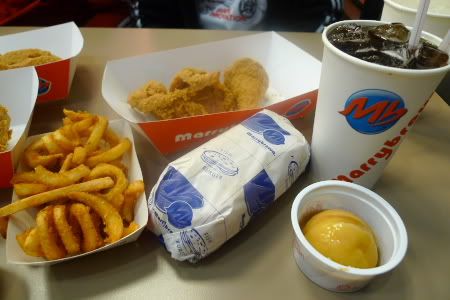 After the movie we ate our dinner at Marybrown. Seriously, other than the fries and their chicken, the rest SUCKS! The fish burger is tasteless, the coke taste like it is out of gas and the spirit is too dilute. -___- We will never go there and eat again!
It's bowling time! I really like the concept of this bowling alley. It's pretty cool to bowl in the 'glow in the dark' alley. Haha.
I kinda suck at it but nonetheless I just join in and play. The last time we played, Ben and my bf played alot better. This time round both of them really sucks too. Lol!
It is the end of our day 1 trip. I will continue our day 2 tomorrow.
More eating experience tomorrow! Haha!