I saw this movie trailer in the cinema while waiting for the Harry Potter movie to start. The first thought came to me was, "
I'm so gonna watch this!
"
Anyway, the 2 main characters in the movie, 'Up' are Carl and Russell. After watching the trailer, I find them really interesting. Here's why: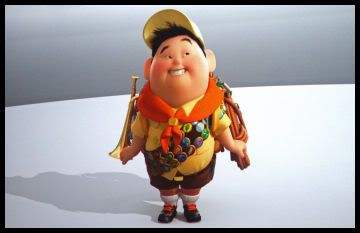 I love the part when Russell came knocking at Carl's door and trying to 'assist' Carl but his offer was being turned down many times. Then Carl slammed the door on poor Russell's foot, I was like; "
ouch!
"
I believe many kids will just whine about how unlucky they are and after that they will give up and leave the place. But guess what? Russell stayed on! That's the part of the trailer, which shows Carl's opened the door, and saw Russell was still hanging on at the corner of his house. He is truly like a little boy with a '
never-say-die
' attitude!
The most hilarious part is at 2.03min of the video, he may had the "never give up" mentality but he was so clumsy. Haha.

Carl
He may look just like any disgruntled old man but this old man does come with an attitude! Woo! He may be stubborn but after all, he is still a thoughtful man. Even though he rejected Russell's offer many times, in the end he still allowed Russell to come into his house and joined him for the adventure!

I'm actually very curious about Carl's character. I want to know what triggers him to convert his normal house into a "
flying house
" and use it to travel around for his adventure.
You know why I don't want to read more about Carl's character from the official website?
It's because I don't want any little tiny bits of spoilers to spoil my excitement for this movie!!!
*grin*
Gosh! The more I said, the more I can't wait to see Carl and Russell's adventure!!!
P
hoto of Carl, Russell and rest of the characters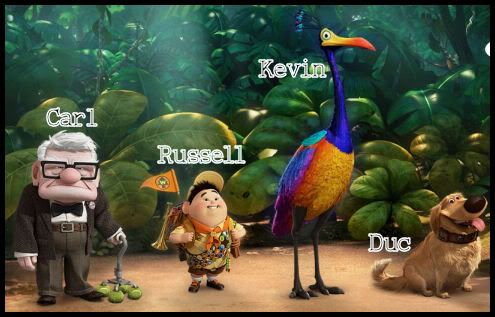 UP in Singapore Cinemas opening 7th August 2009