Mozilla has been cruel to me. Whatever I type is gone when suddenly my browser close. Well, it happen somethings. So I got nothing to complain about. Thankfully, I have not written alot. Well as you see, I have put up a new layout and move my blog to the main domain.
Alot of things have happen while I'm not blogging but I really don't have the mood and mind to blog about all these. Therefore, more and more things have piled up and it's time to delete all from my brain. I shall begin with something in
January
. I already can't remember the exact dates. Haha.
All along I believe what Randy said about Richard's resignation. I only woke up when Eris said that Richard was being 'invited home' because he had taken too many MC for that month. To me, it was a very cruel act to someone who has contributed so much to the company. To the real world, it's the right way to handle someone when they are no longer a liability to the company. What a cruel world that we are living in.
Then later in the month, I emailed Randy regarding the RC committee and questioning his ability somehow. Frankly speaking, I wanna withdrawal from the RC is more of because I don't wish to participate in such things because I totally have no interest! Although it gotta do with the people in the RC, it's not really a big issue. I'm just looking for a good opportunity to back out.
Compare to the other DSR in the company, I'm the only one who really dare to question Randy about the useless Rachel and the real reason for Richard's resignation. Well, he told me the truth. Whether it's acceptable or not, it's not up to me to decide. He is honest to tell me but I felt 30% of it is kinda like acting pitiful. =/
I was confirm by Randy and so I'm permanent staff now. Therefore, I will have all the benefits. I got a $200 worth of products from the company. Then I know that I can claim 1 movie ticket every month. Haha. The rest I have yet to explore. Another good news was that I have moved to work inside the office. Haha. It got its good and bad. Good is that I can just sit and work, work and sit but it's alot more work compare to outside but when you are outside, you can talk to those distributor when you're outside. Haha. Since Randy always think so highly of me, I hope he make that place my permanent seat. =P
Another good news is I got paid raised JUST a little bit. Why should I consider it good news? Because I have only work there for 4 months! IF the boss think I deserve the little increment, I must be "wu liao eh ma". Haha.
My birthday is coming!! Too bad I follow Grassy and to put up a list of birthday presents that I wish to get. Even if I put it now, I guess it's too late. Actually, the best present for me will be more time and less work =P
I think I can only see
Monz
around in March. Don't forget to wish me a super belated birthday hor. If you all can't make it on weekend, then must remember to tell me when you guys are free on weekdays and what date so I have take leave. Actually, the best present for me will be more time and less work =P
*Fast forward to today*
Singapore beat Thailand! I think watching this match is better than watching the Superstar final. The winning goal that was scored by the no. 19 player was really
swee
. It's like a sudden that Singapore got some standard to show. Haha.
Later in the month, I also treat my family for a lunch at
Pepper Lunch
.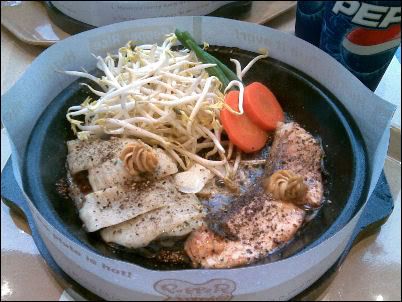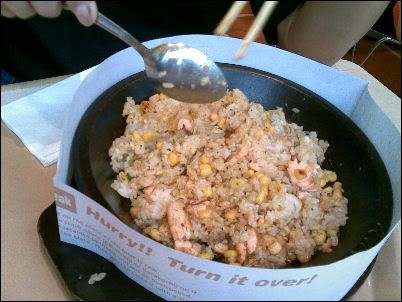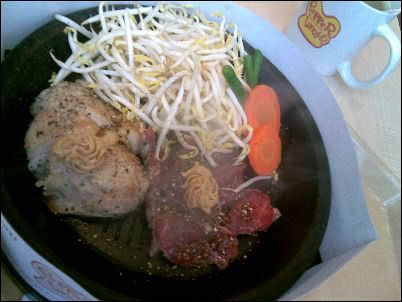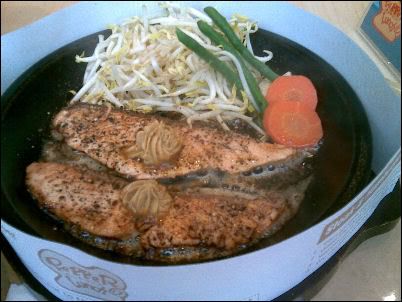 *burp* It's really delicious. =)~

I guess that's all for today. I shall blog more often from today onwards.