Saturday, September 27, 2008
I not stupid!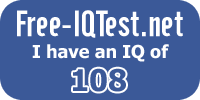 Free-IQTest.net -
Quick IQ Test
Wow! I am so surprised!!!
Im kind of like cant believe it myself when I heard my baby laughing. I just fed him and he fell asleep. Shortly, he smiled and "hahaha" sof...

Alright I Know its a little bit misleading, I should write it as "Garden Solemnisation @ Lewin Terrace".  Hehe! Anyway, I saw ...

Here's the next venue which I find it quite cheap. The place looks nice but its not very convenient. Im not sure if I will like the plac...